Bulukumba (MA PP. Nurul Falah) - The development of globalization era has brought many changes. One of the most prominent is the digital era, which is oriented towards publication. So, we know the term such as selfy, posting, uploading, downloading, and others.

With these terms' existense, there are also absolutely accompanying activities. The most prominent are activities carried out by the younger generation. Yes, at this time, the young generation, known as millennial, is a concern of many people. Starting from how to get along until the place to get education.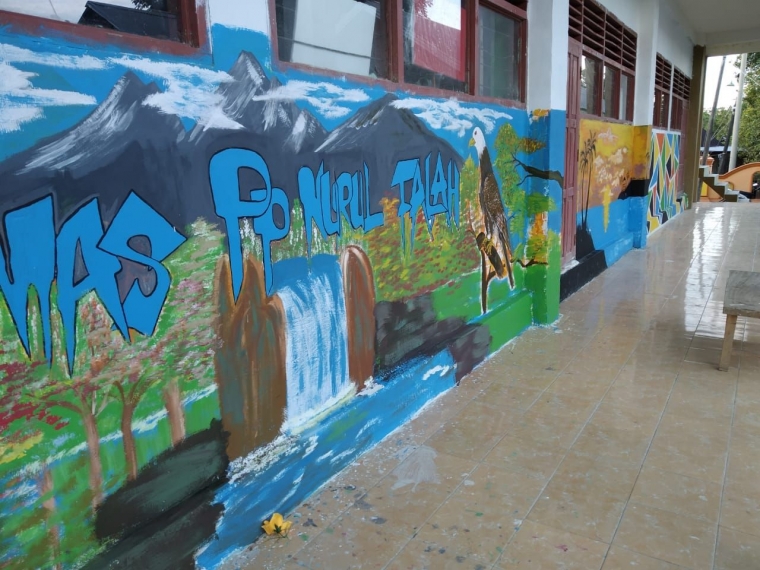 Some areas for students to make creativities. (Private Document)
In this case, caution is needed. So, what to apply to Millennials is not misdirected. It can't be too obedient, and it shouldn't be too restrictive. Their world must still be given but with the condition that no one damages or plunges.
Seeing this situation, MA PP. Nurul Falah Borongganjeng tries to provide a means for Millennial Generation to be creative, but still not separated from their world. MA PP. Nurul Falah paid close attention to what Millennials need to develop positively. Starting from educational facilities until the learning methods applied.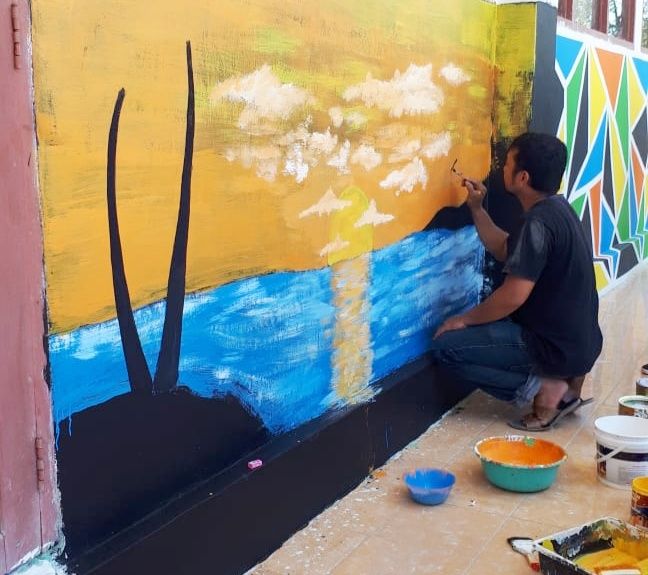 Efendi, the Headmaster of MA PP. Nurul Falah, leads the building decoration. (Private Document)
This situation is being analyzed by the headmaster of MA PP. Nurul Falah, Abdul Efendi, to present friendly education facilities for Millennials. Efendi, his nickname, tries to form a convenient educational facility for Millennials to develop. He began by inviting all his staff to decorate the
school
building. Everything is formatted to date and of course, Instagramable.
It starts by decorating the walls of the classroom to look beautiful and not boring. Surely, it can be a means for selfies. It's more inspiring, every student who wants to post the results of his shots firstly prepare an inspirational caption. The goal, so that every corner of MA PP. Nurul Falah becomes useful and a means to develop.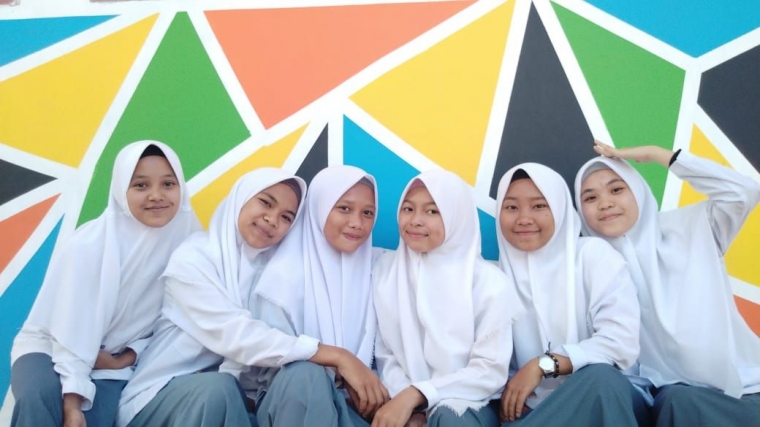 An other result of camera shoot at MA PP. Nurul Falah. (Private Document)
An other rule, every student may bring his smartphone to school with notes, it's used at the right time and moment.
"How can we prohibit things that have become a necessity? Out there, at his house, wherever he may be taken. How come if at school was forbidden? What we need to pay attention to, is certainly guiding them, so that smartphones are not used haphazardly, and we have made the rules." He said at the smartphone problem meeting with the teachers.
In the future, MA PP. Nurul Falah will continue to tidy up, preparing education facilities which are truly friendly for Millennials. A means of education that is truly comfortable for Millennials to learn developing themselves by staying the best in terms of morals.
(yh)
VIDEO PILIHAN