The highlight of BTS's career happened last night on December 2nd. Among the 26 awards given away last night at the Mnet Asian Music Awards (MAMA) 2016 in Hong Kong, 3 of them were daesang, or grand prizes. Internationally known K-pop boy band group BTS brought home one of the grand prizes, Best Artist of the Year Award. Other daesang winners of last night were EXO for Best Album and Twice 'Cheer up', for Song of the Year.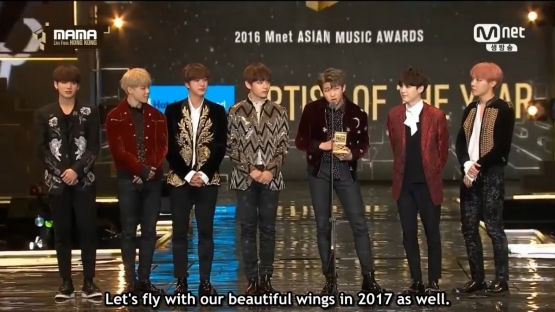 taken from https://www.youtube.com/watch?v=KD0DLOVJMLI
Who are the BANGTAN BOYS?
The BANGTAN BOYS (BTS) debuted back in 2013 under Big Hit Entertainment, a fairly unknown label before the rise of BTS which made winning Best Artist of the Year all the more meaningful. BTS not only write their own music but they also contribute to making their music as producers, which is rather uncommon for K-pop groups. This is where BTS strike as rebellious and individual. Big Hit Entertainment giving the K-pop group their own authority means they have full control on where their headed, knowing that their success is highly dependent on their own actions which motivates them to push forward.
Rise to International Fame
Earlier that night, BTS won Best Male Performance for Blood, Sweat and Tears from the album Wings. The inspiration is brought from a German book called Demian where the main character finds enlightenment and growth. The MV for the single blew up instantly after being uploaded to YouTube on Oct 10th and broke the record for highest amount of views for a K-pop group in 24 hours while currently standing at 60 million views. The single managed to appear in Billboard Canadian Hot 100 and peaked at No.1 on US World Digital Chart (Billboard). This year they also released singles Save me and Fire from the album The Most Bautiful Moment in Life: Part 2.
As the night grew darker, the atmosphere inside the AsianWorld Expo Center in Hong Kong remained lit with excitement and anticipation. BTS performed Boy meets Evil, Blood, Sweat and Tears and Fire before the grand prizes were announced.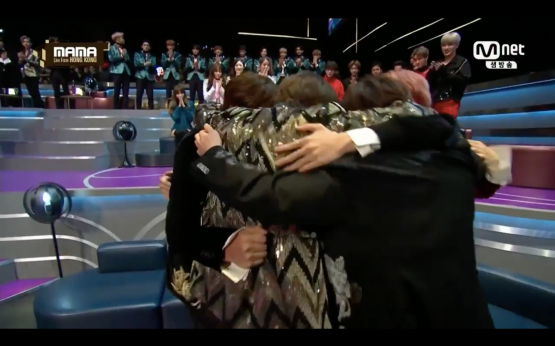 pic from soompi.com
The boys were frozen in shock the moment they were called up as if it was too good to be true. A group hug commenced before they walked up to the main stage. Their road to the MAMA awards was nothing but
Blood, Sweat and Tears
. The main rapper as well as leader of the group
Rap Monster
, had to hold back tears of joy in order to utter the words of his acceptance speech.
Suga
and other members of the group also burst into tears after hearing the moving words of their leader while reminiscing their own hardships towards this peak moment of their career.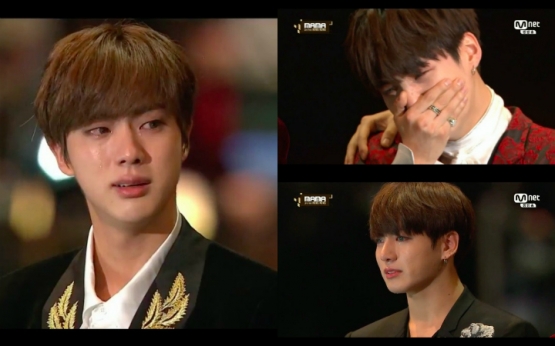 pic from soompi.com
"I hope that our stage and our music could be the hopes and dreams for everyone all over the world"
said Rap Monster after thanking the BTS ARMY fan club for their full support. It was truly an emotional and moving event for everyone watching.