Recent Win at Inkigayo
Not all K-pop groups break records prior to their debut but then again, BLACKPINK isn't your average K-pop group. Their eccentric looks, stylish movements and upbeat yet classy music are features, carrying this group to worldwide fame.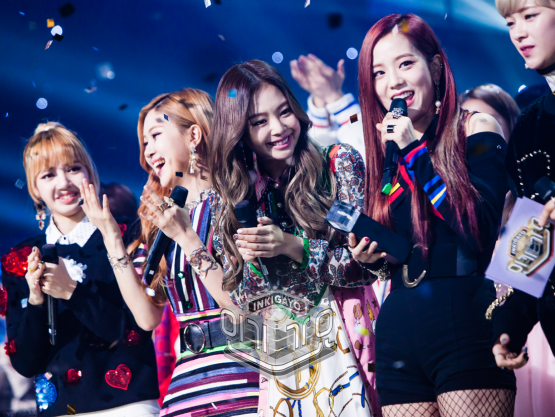 pic from imgur album https://imgur.com/a/zNZeA#AetNcra
The girl group from
YG
Entertainment collects yet another award on the weekly music program
Inkigayo
, with their single PLAYING WITH FIRE on Sunday Dec 4th 2016. This makes it their 4th win on the
Inkigayo
channel and 5th music program award since their debut in August. 
On YouTube the single reached 37 million views over the span of a month and peaked 3rd on Korean charts and 1st on US charts. Their new song compares love to playing with fire, mentioning that their mom has warned them to be careful around boys that play with emotions. During their comeback, BLACKPINK also released Stay in their Square Two album which collected 20 million views.
Who are BLACKPINK?
BLACKPINK gives off an eccentric look that allows them to stand out from other K-pop groups. Similar to numerous successful groups, BLACKPINK consists of only 4 members, enough to keep it diverse yet maintain its simplicity.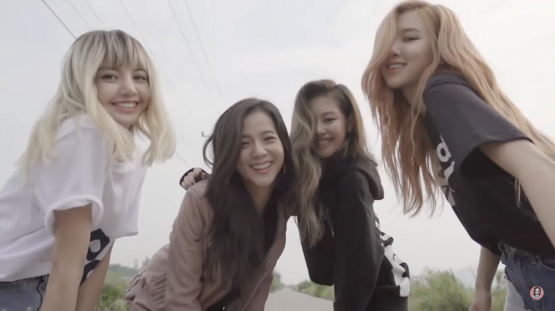 From left to right: Lisa, Jisoo, Jennie, Rose. pic from www.itechpost.com
Jisoo and Jennie are native Koreans but Jennie is also fluent in both English and Japanese due to studying abroad. Rose was born in New Zealand and grew up in Australia until she moved to Korea in 2012. Lisa is from Thailand and became a YG trainee in 2011. She was the only participant accepted during YG's audition in Thailand.
Accomplishments and Reasons for Success
Most Korean labels promote their trainees via reality TV, recording their progress along the way in order to produce revenue to compensate for the high cost of training members. It also helps them get used to public speaking for media appearances later on in their career. What YG did differently was that they kept BLACKPINK a secret for the whole period of their training. The anticipation and hype over a new girl group from a prestigious label caused quite a stir. Everyone knew YG was not going to let the fans down and on one unsuspecting day YG released 2 of BLACKPINK's singles at once, Whistle and BOOMBAYAH.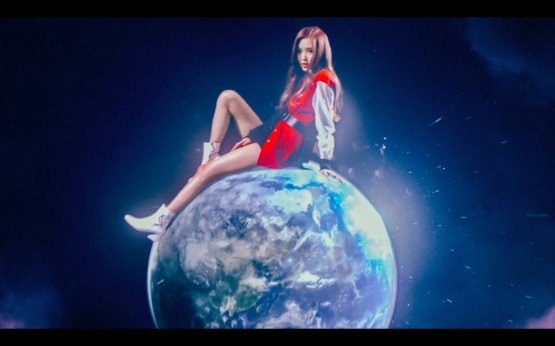 from YG yt channel https://www.youtube.com/watch?v=dISNgvVpWlo
Whistle and BOOMBAYAH gained ground rapidly. Later nicknamed the Monstrous Rookies, BLACKPINK was so successful on their debut that it didn't take long for them to gain international coverage. Their single BOOMBAYAH peaked at No.1 on US Billboards, while Whistle peaked at No.1 on Korean Goan Digital Chart and No.2 on Billboard. Due to great cinematography, swaggery and by being visually appealing, Whistle later won Best Music Video at the MAMA 2016. At the Melon Music Awards, BLACKPINK received an award for Best New Artist and were also runner up for the same award at the MAMA 2016.
With BOOMBAYAH they became the fastest female group to receive an award prior to debut with only 14 days. On their second album, the single PLAYING WITH FIRE not only peaked at No.1 on Billboard but also reached Canadian charts as well as Japan's Top 100.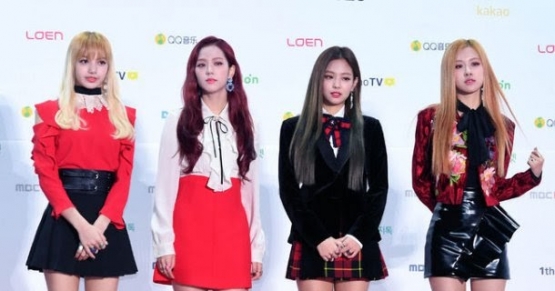 BLACKPINK at MMA pic from netizenbuzz.blogspot.co.id
BLACKPINK certainly appeals to the western eye. YG has been in the business long enough to know what the people want. They also have the expendable resources needed to promote and expose their girl group offshore. BLACKPINK and their westernized looks are accompanied by their sharp movements and style with music composed by Teddy Park, who also helped produce music for BIG BANG and 2Ne1. Their albums consist of music from different genre's which showcases their ability to easily adapt to any style.