As predicted by the economist Thomas Malthus back in 1789, by the late 20th century, the food supply in the world will be exceeded. Hundreds of years later, the world's farmers still feeding the whole population on the same amount of land. 
The world is expecting to have its population increased to around 10 billion people and United Nations' Food and Agriculture Organisation (FAO) predicts the agriculture industry to produce 70% more food but only have 5% increase in their land usage. Disruption is everywhere in food supply value chain in this world. As suggested by Eoin Lowry, the agribusiness editor of Irish Farmers Journal, innovation is vital in driving future business growth.
In Malaysia's 11th Plan, agriculture is given huge attention whereby it will undergo major modernisation. From (1) improving productivity to (2) intensification of performance-based incentive and certification programmes, the plan has seven-pronged strategies. 
Between these two, the government also focuses on (3) promoting the training and development of youth entrepreneurs in the sector, (4) the strengthening of institutional support, (5) capacity building for agriculture associations, (6) the improvement of market access and logistical support, and (7) scaling-up of access to agriculture financing.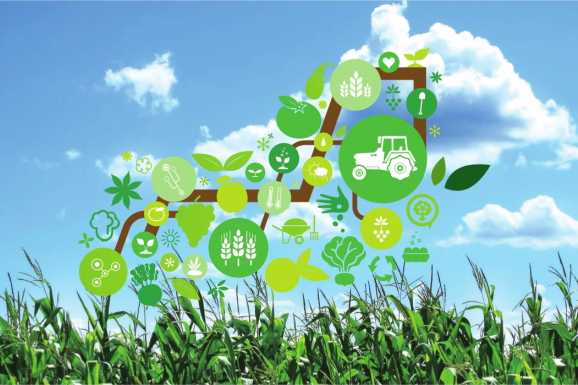 nexteratechs.com
In regards to that, it is important for us to see the importance of Internet of Things (
IoT
) on agriculture. This method provides enormous opportunities and potential in improving the food sector. In agriculture sector, there are thousands deployment of sensors to improve water sustainability, imaging, production, and ease of farming. The unmanned aerial vehicles (UAVs) with integration with satellite imagery to provide autonomous operations and precision data gathering.
Information and communications technology in plantation and agriculture is being emphasized in improving productivity in Malaysia. Agriculture and Agro-Based Industries Minister, Datuk Salahuddin Ayub announced that the government is investing RM2 million to rejuvenate the application of agriculture sciences and biotechnology to the masses, especially the young who are keen to cultivate the fields.
In revitalising the agriculture sector in Malaysia, adopting smart farming or precision agriculture is the way to move forward. Smart Farming, also known as the Third Green Revolution, refers to the application of information and communications technology in agriculture. 
This effort includes using of drones to crop spraying, soil and field analysis, planting and crop monitoring. The pilot programme has been initiated by the Malaysia Agriculture Development Authority by the deployment of crop spraying of more than 2000ha of paddy fields.
To create up-skilling programmes for farmers, fishermen and other agriculture sector workers, the National Agriculture Training Council and the Institute of Malaysian Plantations and Commodities will collaborate with universities and other agencies. The ministry also proposing to have the higher learning including University Putra Malaysia to lead the charge to transform farming into a high yield and high-income sector for farmers and fishermen.
To make agriculture stay alive in Malaysia, the government has initiated a program to empower the youths to active in agriculture field. The Young Agropreneur Program 2018 is an initiative by the Malaysia's Ministry of Agriculture and Agro-based Industry. It aims to;
1)Attract youths towards agriculture and agro-based industry
VIDEO PILIHAN