[caption id="attachment_187224" align="aligncenter" width="576" caption="Malik Mahmud, the forthcoming Aceh"][/caption]
Peace, security and tranquility is hardly the norm in Aceh. This coastal Indonesian province has suffered more than a century of troubles: Dutch colonial warfare, a bloody insurgency and a horrific 2004 tsunami. Recent years have offered a reprieve, arising from the tsunami wreckage. But political violence now threatens this relative peace. A bloodstains politics as a path to new wave of dictatorship in Aceh, Wali Nanggroe.
An April 9 election have asked the Acehnese to choose between two viable camps. Both are headed by former separatists who had fought as part of the same rebel movement, to achieve Acehnese independence.The run-up to voting has triggered violence — including a mysterious wave of killings — reminiscent of the insurgency they left behind. The former  governor, Irwandi Yusuf, claims that he too is marked for assassination. His supporters have been beaten, and his campaign vehicles have been torched. All of this has occurred while the party founded by the defunct rebel militia — the Aceh Party — has broadcast unsettling insinuations that conflict could return to this far corner of Indonesia.
"They're not saying, 'We will go off to form a new guerrilla organization if we don't win,'" said Sidney Jones, a conflict expert with the International Crisis Group in Jakarta. "It's more of an implicit suggestion that, if you don't elect us, conflict could break out again," she said. "There is no specific threat, but they've managed to convince a lot of people ... that this could happen."
[caption id="attachment_187215" align="aligncenter" width="320" caption="Sydney Jones"]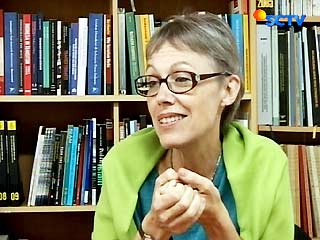 1339382585702140847

[/caption]
The contemporary challenge for Aceh's ex-rebel politicians is not an external foe but their own infighting. The elections, Jones said, will test the loser's ability to accept voting results without resorting to bloodshed. That test largely falls upon Aceh Party, which already controls much of the legislature but seeks to bring the governor's office under its control. In doing so, the party's chiefs have weakened their insurgency-era vows to create a new absolute power in Aceh, wrapped in democratic layer of the unitary of Indonesia. The party is described by the International Crisis Group as an "autocratic, almost feudal party that brooks no dissent."
The recent update showed that Aceh Party has won the battle. The glorious end of the internal fight between former associates, Irwandi and the gangs. Furthermore, this victory would open wide the path of Aceh party into the new form of dictatorship government through the body of Wali Nanggroe, which the successor of Hasan Tiro, Malik mahmud Al-Haytar going to be "the Wali Nanggroe".
Practically, it also would be easier for Aceh party to rule since we have acknowledge that this local party had took control of two bodies, legislative and executive. In doing so, Wali Nanggroe bill would go really swift as smooth as it could. What will happen after the bill passed by the local legislative? then the new bloodstains of Aceh will get more obvious and Aceh will remained suffered by a new trouble, Wali Nanggroe.
David Webb