I have grown watching rowan Atkinson as Mr. Bean on the television, and the announcement of this actor into the screen 7 years after his last film got me so excited. I can't wait to see another stupid silly fun plot and the return of simple slapstick comedy to the screen in this age where many things have to be smart, witty, rude, or dark to be considered funny. Personally, I enjoyed the simple set and easy to digest story of the world's greatest spy Johny English and I will not hesitate to give it a 6 or 7  out of 10.
JOHNNY ENGLISH STRIKES AGAIN is the third installment of the Johnny English comedy series. After his time as the spy over, now Johny English act as a geography teacher and of course still teach his own way in the class. The old and retired renowned spy, Johny English are forced to act again when a cyber-attack reveals the identity of all active undercover agents in Britain. English dives head first into action with the mission to find the mastermind hacker and challenge technology and young spirit. Johnny English with his wit and luck must overcome the challenges of modern technology to make this mission a success.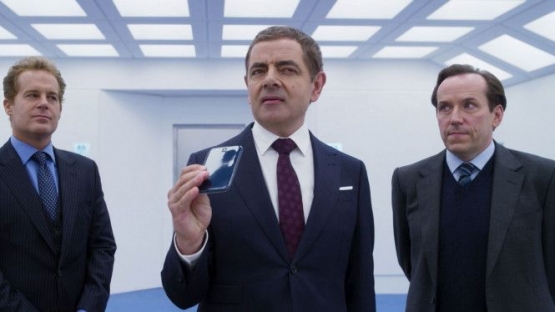 readingcinemas.com
The strong theme with this movie is that the old ways still work. I think it refer to the old Johny English who needs to adapt and challenge the new ways and technology in completing the mission. He is still stubborn and wanted to prove that his 60's bond ways is still working just fine. He throw up new phone because he is afraid of hacking, still choose old classic cars, dance to disco music when he got high, and still insist in traditional spy approach in his espionage mission.
It is interesting to see how his old way clash with the new technology. My favorite scene is where English tried to complete mission using Virtual Reality Simulation Googles, it just shake my stomach how his luck did not fail him. It was the best scene, seconded only by the magnet shoe uses in ship espionage.
I understand that there were some people that expected more of this film. But, if you know rowan Atkinson and mr. Bean I think you know what kind of movie that you will see in this movie. Johny English is not the same as mr. Bean in character even though they have some similar traits. You should expect stupid and silly comedy, non complicated plot, silly reactions and out of nowhere moments surprise slapstick joke. With a good deliverance, the joke may be predictable but what is funny is still funny.
I recommended this movie for you if you like comedy. Just turn off your critics brain and just enjoy this stupid moments and jokes, and believe me it won't burn your brain cells. Plus point it was a family friendly movie that you can enjoy together.