I believe some of us are already familiar with QR codes. A QR (Quick Response) Code is a two-dimensional barcode that can only be read using mobile phone cameras and QR barcode readers. It is unique code consists of black and white modules in a square pattern on a white background. It may contain information, in texts, URL, and other data. QR Code is unique; it is a structure with functional elements that contain our information. Its elements could be highlighted as below.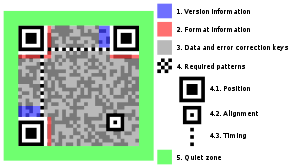 Initially, this code is used to track vehicle manufacturing. Nowadays, it is applied in broader context as in mobile phones. It can be used to display text, to add a vCard contact to the user's device, to open URL, or to compose an email or SMS. QR codes storing addresses and URLs may appear in magazines, on signs, buses, business cards, or almost any object about which users might need information. Users with a camera phone equipped with the correct reader application can scan the image of the QR code to display text, contact information, connect to a wireless network, or open a web page in the telephone's browser. To know more about QR Code, you can visit
Wikipedia
,
Search Engine Land
,
Denso – Wave
,
QR Reader
, etc. Alternatively, you could watch
this video
.
How to generate a QR Code?
Creating your own QR Code is easy. Using QR code generators, you will be able to have your own QR codes and embed the HTML code put in your email/IM/SMS or at your website. Here are some of the QR Code generators available online:
Kaywa,
Qrstuff,
Goqr,
Qurify,
Delivr,
and
Invx.
How to read a QR Code?
Most of smartphones are equipped with QR reader application and a connection to the internet. If you don't have the application, you can still use your PC to read QR code. Some of the readers are reviewed in these pages:
QRreaders,
Dansl,
and
Mobile Barcode
.
Some Applications
QR Code can come very handy and beneficial in several areas, such as business (marketing) and
education
. People may have their information in the card using QR Code. Here are two videos of that:
QR Codes as Business Cards
and
25 Ways to Use QR Codes
.
How is it used in Education? Since it stores information in a single code, QR code could be engaging and challenging ways for learning. In the storytelling, for example, learning can be interesting when the story is coded using QR code and students may learn from that and share while communicating the meaning of the story. In English learning, the activity will be expected to enhance students' motivation to practice using English more frequently. Here is a video of how to use QR code for Storytelling activity. Another activity that could be interesting is Scavenger Hunt. The idea is to have others search for more information to answer or get to a clue. In the classroom, this can be a fun activity for students, for any levels, from elementary to tertiary levels to crack the codes and come to answers. It could enhance collaborative works as well. Here is a video of how to have a Scavenger Hunt. It's not specifically in education, but we all can get the idea. To have a more thorough review on using QR Codes in the Classroom, please click this link. There are several other activities that can utilise QR Codes for learning. Generally, it may empower students' creativity in a cooperative learning fashion. While maintaining students' interest, it may boost students' motivation as well. For communication purposes, students may be later required to speak or write about their experiences using QR code. I believe there are several other information about using QR Codes in specific contexts out there. Just have a try and see how it goes! ©mhsantosa (2012) I am happy to share this. Please feel free to reblog or share the link, all with my accreditation. Thank you.
VIDEO PILIHAN