Introduction
Education is an integral part of human capital development, as one of its purposes is to ensure potential labor forces are equipped with adequate skills that suit employers' needs, so that they can make an economic contribution. Governments have provided public education to ensure every citizen has a level playing field in order to reduce reducing skills inequality. Countries generally allocate a significant sum of their budget towards education (11% of Government Budget on average).
Indonesia is no exception here. According to OECD, there is a positive trend on Indonesia's public expenditure on education in terms of percentage of its nominal Gross Domestic Product thanks to its law to spend a minimum of 20% of its budget on education. This shows how much emphasis the country place on improving education. Recently, Indonesia has published the 2020 government budget and Ministry of Education receives Rp 508.1 Trillion. The allocation, however, is rather misguided as Indonesia still focuses on reducing inequality at the expense of the quality of its future workforce, as it was seen on the latest PISA results that showed Indonesia was in the bottom six among the OECD countries. The result shows that quality is something that Indonesia always fails to achieve although it has always been their goal.
Education Expenditure and Inefficiency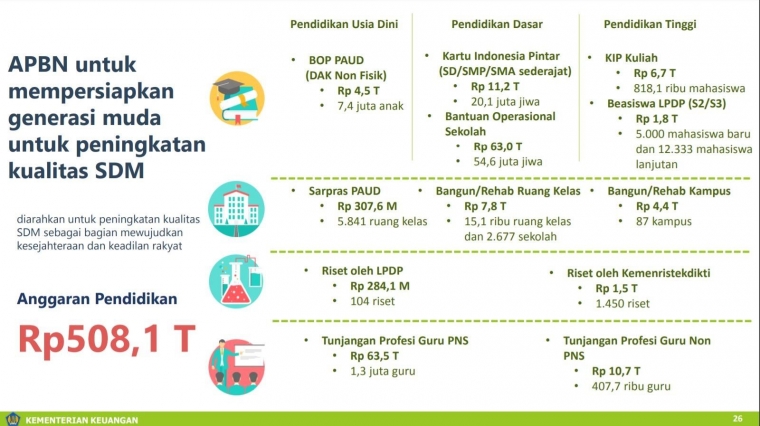 Kemenkeu
In the 2020 Government Budget 2020, the Ministry of Education is allocated Rp 508.1 Trillion to improve Indonesia's quality of education and future workforce. Out of that budget, 14.6% is allotted to basic education, followed by benefits for civil-servant teachers (12.5%). The purpose is to increase the number of children admitted to schools and in the long-run, expand the workforce. It also aims to tackle the problem of underpaid teachers so that they will be more motivated to teach students along with creating improvement on the current syllabus. Despite the increased effort, the problem remains unsolved as the number of out-of-school children at adolescents does not dwindle. According to UNESCO, the number of out-of-school children still increases even after all the expenditure by the government, with the highest number of out-of-school children in 2014 (1,919,777 in total) and 2018 for number of out-of-school adolescents (2,299,116).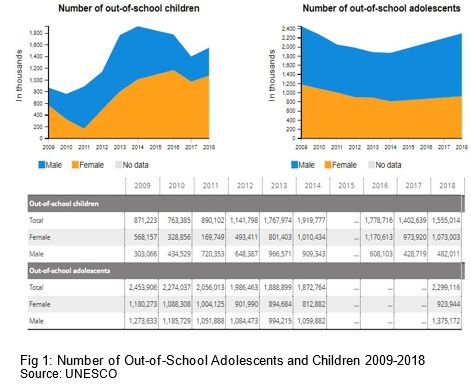 Unesco
To strengthen the previous argument, this approach was similarly done by Malaysia in 2012 as well. However, Pereira and Assadullah (2019) found out that Malaysia's effort in increasing public spending to set up additional schools to increase overall student enrolment remained futile as their PISA scores in 2012 were lower compared to South Korea and Singapore as their comparisons. It is understandable to see the reason to increase school enrolment which is to reduce the inequality among the income levels in terms of education opportunity, however this should be coincided with the improvement of the quality as well. If the quality remains stagnant, 
Secondly, increasing teachers' salary does not guarantee higher students' performance in their studies too, as de Ree et al (2017) showed by studying the effects of unconditional increase in teachers' pay in Indonesia.  They found that teachers in schools that received higher pay tend to be more satisfied with the salary, theoretically inducing higher motivation to teach their respective students. However, they did not find a correlation with students' performance in their standardised tests. Their studies concluded that higher teacher salary has "...no effect on teacher effort toward upgrading their own skills, no consistent evidence of changes in self-reported teacher attendance, and no effect on the ultimate outcome of student learning."
The two government's motivations and their respective studies show that although higher government expenditure is imperative, it is the use of these funds that are the important determinants of student learning outcomes (French, French & Li, 2015).
Lacking Quality and Poverty, Health, and Labor Productivity
VIDEO PILIHAN