PARUNG - Visiting the hydroponic and organic fresh vegetable producing garden is one of the destinations that you cannot miss. By visiting here, the reader knows that this is the key to the retailers and big restaurants that take these fresh vegetables. The location of this garden is on Jalan Raya Parung no.546 Parung District Bogor Regency.
PT Kebun Sayur is a producer of hydroponic and organic vegetables and makes a brand under the name Parung Farm. Starting in 2003 it started for hydroponic vegetable cultivation, but due to seeing its high market demand, in 2006 PT Kebun Sayur Segar started to cultivate organic vegetables. This company is the first producer of leafy vegetables in Indonesia to obtain Organic Certificate from PT Mutu Agung Lestari in 2010.
The high interest makes this company have quite a lot of partners and also a vast land area with more than 3 hectares of land located in Galudra Village, Cugenang District, Cianjur Regency and Puncak Bogor with an area of 5 hectares. There are 20 hydroponic partners spread across Bogor and Cianjur, as well as 1 organic partner located in Puncak Bogor. The company also has conventional partners spread across several cities in Bogor, Cianjur, and Bandung.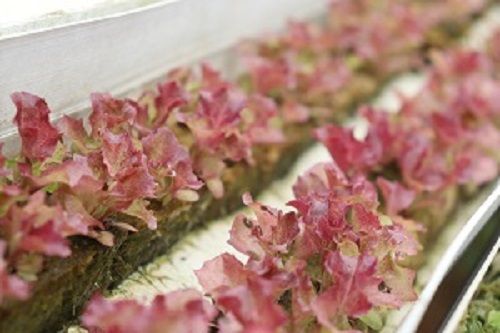 Dokumentasi pribadi
Various types of vegetables at Parung Farm are very diverse ranging from Leafy Hydroponics to Non-Leafy Organic also found here. Hydroponics Leafy has various types ranging from Caisim, Green Pakchoy, White Pakchoy, Kale, You, Petsay, Red Spinach, Green Spinach, Curly Lettuce, Lollorosa Lettuce, Butterhead Lettuce, Romaine Lettuce, and Endive Lettuce. For the Nonleafy Hydroponic category there are TW tomatoes as well as Cherry Tomatoes.
Turning to Organic Leafy products, Parung Farm has a type that is also certainly much in demand by the market namely Caisim, Green Pakchoy, White Pakchoy, Kale, You, Petsay, Red Spinach, Green Spinach, Curly Lettuce. For Organic Nonleafy there are vegetables such as Carrots, Broccoli, White Mustard, White Cabbage, Sweet Corn, Young Corn, Beans, Red Beans, Eggplant, Oyong, Beetrot, Aloe Vera, Long Beans, Cucumber, Cucumber and Zucchini.
The results of this production will be included in retail as well as several restaurants. "We distribute these vegetables to various restaurants such as Pepper Lunch, Ikea Alam Sutera, Monami Bakery, Pancious Cafe, etc. In addition we also enter into large retailers such as Hypermart, Hero, Ranch Farmers, Foodhall Lion Superindo and many more" , said Ketut Adi (27) Marketing of PT Kebun Sayur Segar (25/02).
The production of Parung Farm is guaranteed to be fresh and healthy, because of course this Parung Farm has guaranteed its cultivation products with guaranteed quality and cleanliness. The company is audited annually by auditing institutions such as Mutu Certification and Tuv Nord. Thus, Parung Farm can hold the trust of large retailers and well-known restaurants to supply their products. (ayr)
VIDEO PILIHAN