Learn from Si Jago Merah...
10 Januari 2011 10:12:16
Diperbarui: 26 Juni 2015 09:45:45
Dibaca :
Komentar :
Nilai :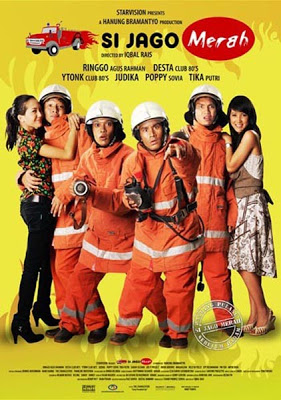 Written by Fahmi Awaludin Last night when I was speaking with my brothers, suddenly I saw a movie namely Si Jago Merah. A story taken from four students college, which were looking for a job in a capital city, Jakarta. They tried to get a job as fireman in one of the fire office in Jakarta but they had rejected because of the leader of firemen in that office objected for receiving the strange students college and unbelieved they could the job well. They must realized that it was a life where rejected and accepted in a job. They went... but when Rojak, one of the students college saw a skill mechanic could not on the machine suddenly said, it was easy and I knew the problem was. As a boy who knew about machine he said that I could do that. The man who did not want  bad in front of them, cool boys, said that I would like to kiss all your bottoms if you Rojak could on the machine well. Suddenly the leader came in and said to Rojak and friends that they did not disturb this fire-car, Si Jago Merah, because of the history inside and they must went out from the office... When they tried to went out suddenly the commandant said that please made good preparation for training for being a fireman.They felt happy except one their friend, Kuncoro, who did not ready to see fire more. Most of days they obeyed the training whether push up, sit up, outbond, and other body power training they tried. At the first time they must went to a location and all firemen felt confuse when knew nothing fire in that location. They saw a girl and need to took a gold ring from male fiancee then Kuncoro Prasetyo (Ytonk Club 80's) tried to took it but could. Gito Prawoto (Desta Club 80's) did the same like Kuncoro and he got the ring. After giving to the girl, he felt happy... suddenly the phone rang and he felt guilty when knew the girl would get marry then. Dede Rifai (Ringgo Agus Rahman), Kuncoro Prasetyo & Rojak Panggabean (Judika) just smile after about the real that Gito faced on. Exactly they did as fireman because of money they had not from the parent and D.O. they would soon. And fact they could a job althought as they dream it. They went by... They did on and on as a fireman. In the middle of routine they had problem each others but then by an unforgettable moment when they helped all people in a bulding in a capital they became a hero and then each student could follow the study in the college, got an achievement from mayor also good in getting couple. ----------I just want says about this article brotherhood never die....

Guru (kelas) SD; Dosen B. Inggris Niaga; Suka buat modul; chatting; beristri dan memiliki anak cantik... hehehe
Selengkapnya...
KOMPASIANA ADALAH MEDIA WARGA, SETIAP KONTEN DIBUAT OLEH DAN MENJADI TANGGUNGJAWAB PENULIS.